Matte or Glossy? THAT Is The Question!
Coming to you from the wonderful world of a girl who is now obsessed with Mary Kay cosmetics, today I bring you some dish on an all new goodie I recently had the pleasure of getting formally introduced to:
NouriShine Plus Lip Gloss!
I'm telling you I can't stop talking about Mary Kay cosmetics nor can I believe just how many comments on my make up I get every single day! So as usual, I wanted to share another little goodie from them with you.
Upon my last purchase of goods I was stocking up on, my wonderful MK Rep
Ashley Reed
recently sent me a new product to try and of course, being your Mary Kay correspondent, I just had to try it! I love, love, love how she is always suggesting other products to help replace current brands I may not be satisfied with or just seeing if MK may have a better color or type of product all together.
Ashley knows how much I adore red lip color so she sent me a fab shade called Rock n' Red Rouge, a non shimmer gloss. Now the truth is I have always been by far a lipstick only girl since I have had terrible luck with lip glosses in the past. Different brands I tried would either leave the creases of your mouth a gunky mess, would have some crazy off smelling candy taste, or would make your lips look like you just ate a bucket of greasy chicken because the formula was just too thick!
So I was a bit on the hesitant side seeing as how my years of experience with various brands left me to no avail in finding something that could work for me. Even though I naturally prefer lipstick, there are times when I would just want to throw on gloss to lightly stain my lips for a more daytime, run around look when I wasn't in the mood for full on lipstick but just gave up on it all together. But none the less, I gave it a go!
ONCE AGAIN MARY KAY HAS CEASED TO AMAZE ME!
I first tried it at home over the weekend and then put it to the real test by wearing it to work on Monday and my oh my the look and feel is unbelievable! It is NOT like any other lip gloss out there. Upon applying the gloss I immediately noticed how smooth and uniform it went on my lips, no clumps or globs to deal with since it utilizes a small brush for application rather than having to squeeze it out of a tube.
The feel was so amazing it was as if I had on chap stick and not a typical greasy gloss formula because it does such a wonderful job at coating your lips to ensure adherence of the color as well as full lip coverage. I also noticed no crazy candy imitation smell which was also a plus seeing as how I'm no longer a twelve year old just starting to experiment with make up!
What also surprised me was how close the color came out on my lips compared to the actual color in the tube. Normally glosses go on so sheer that even if they are tinted with color, the final look is only a fraction of what you had hoped for. With this MK formula, you do indeed get very close to the original color, which told me that the components in the formula will protect and sooth your lips because it has a consistency that is not necessarily thick but goes on and sets very quickly instead of staying very moist. This usually causes most glosses to fade within the first half hour because there really isn't anything there.
The wear time on this, assuming you aren't eating or drinking anything at the moment, is about a good three hours before the color starts to fade JUST A SHADE, not even anywhere close to how the other glosses tend to fade to the point to where its almost gone as if you didn't apply anything to begin with! After about a slight fade when hitting this three hour mark, I reapplied JUST A LITTLE and voila! took me right back to the intensity of when I first applied the gloss that morning.
You can also apply on top of your lip color to give it a nice shine or definitely wear alone. It is very easy to mix in with previously applied gloss on your lips and doesn't flake or start to look like absolute deterioration on your lip, why? because this formula is so MOISTURIZING! It doesn't dry you out to where reapplying more formula causes a nasty mess like most glosses and lipsticks.
I was also AMAZED at how over the entire time that I had the gloss on for the day, I never, NOT ONCE, had the dreaded gloss clump gunk form in the crease of my mouth, another reason why I had given up on lip gloss. This formula stays exactly how it sets, it doesn't start to pool in certain parts of your lip. No color bleeding here girls!
When you are ready to remove it, a simple tissue will do. Very easy to come off and no staining either! What was also shocking was upon removal I noticed how moisturized my lips felt rather than the dried out, sticky feeling like some tend to leave you with.
This wonderful little gem only retails for $14 and comes in a range of colors for the matte lovers as well as the shimmery fans and will even fit in Mary Kay's compact and Compact Pro for easy carry!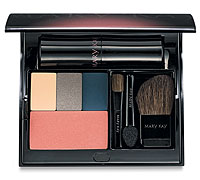 If you have been thinking of trying a new lip gloss or just Mary Kay in general, my wonderful and ever so adorable representative
Ashley
will be more than able to help in picking out some fabulous colors to get you ready for the summer!
Definitely check out her website to get a peak at all of the fun gloss colors as well as other products you might be interested in trying, such as these mentioned in a previous post
here.
I know I'm going to be keeping this little gem in my purse from now on! How about you?
Until next time kids!
XOXO
-M