In my quest to find more natural products to replace the chemical based ones I have used for so long which are now starting to irritate my skin, I decided that the first item on the list to find was an all purpose soap that would act as a make up remover, shower gel, hand soap, shampoo, and laundry detergent in order to cut down on the amount of various products I would have to buy each month. I mainly needed something to treat my skin a lot better than most of the garbage out on the market today.
About a year ago, I came across a brand of natural cleansers from
Dr. Bronner's
that I would see in the drug stores from time to time. The label of the bottles always seemed to catch my attention as they have a lot of information printed on them, which to me was weird to see so much text on one label! Upon reading, I was surprised to learn that the formula for this brand utilized primarily natural plant oils to comprise the castile soap, not something you really see today.
What stuck out the most to me was the combination of organic extra virgin coconut, olive, jojoba and hemp oils, and pure essential oils which would clean effectively without being aggressive as well as create a velvety-lather. Also with that amount of oil in the formula, I knew it would leave the skin silky-smooth and refreshed.
Also, other facts mentioned on the bottle that grabbed my attention were:
Completely Biodegradable and Vegetable-Based
Made with Certified Fair Trade and Organic Oils
Multi-Purpose: 18-in-1 Uses
No Synthetic Foaming Agents, Thickeners or Preservatives

100% Post-Consumer Recycled (PCR) Cylinder Bottles and Paper Labels
Simple, Ecological Formulations Based on Old-World Quality and Expertise
#1-Selling Natural Brand of Soaps in North America

INGREDIENTS: Water, Saponified Organic Coconut*, Organic Palm* and Organic Olive* Oils (w/Retained Glycerin), Organic Hemp Oil, Organic Jojoba Oil, Essential Oils**, Citric Acid, Vitamin E
The company makes the soap in bar and liquid form. Around the first time I came across Dr. Bronner's I had been having problems with most bar soaps irritating my skin and was a bit leery to try it without seeing if the liquid would fair better for me first.
Even though I like what I was seeing I was still skeptical on whether or not this stuff would actually work. After going back and forth for a few months with deciding whether or not this was something I really wanted to give a test run, I finally broke down and decided to try two of the numerous scents that I figured I would like the best, Peppermint and Rose.
Since I am always obsessed with anything Rose scented, I decided to try that one first. I was completely thrilled with how soft the soap was and how soothing it was to use on my skin! The smell was also incredible, not heavy but just enough rose to give you a pleasant fragrance without lingering too long to cause any unwanted crazy fragrance headaches later on.
Now the truth of the matter is, I could go on and on about this brand but let me not digress in too many details so I will try to keep this brief!
I was pleased to see that I had no harsh reactions to my skin, like most bar soaps do today. I also got the same results from the Peppermint, however, I must say that this one is strong on your skin at first because of the real Peppermint oil used in the formula. My skin felt like I was in a spa getting a oil rubdown with the tingly feeling I experienced for the first few minutes, which was actually quite nice! Then the tingling sensation eventually would die down after rinsing it off, which leaves you with a great clean touch to your skin.
After getting out of the shower, my skin felt incredibly smooth, almost to the point where I felt at times like I didnt really need to apply any lotion afterwards due to the oils in the soap that actually moisturize your skin as you clean it.
I had even went as far as to try the Peppermint as a face wash and boy was I surprised at how amazingly well it removes makeup while slightly exfoliating your skin at the same time! I have never found any soap that could cleanse a face full of make up to the point where I didn't need to use a scrub before or after much less make up remover! That was definitely a plus for me as I am a big believer in exfoliation providing one with healthy, glowing skin.
I eventually worked up the courage to try some of the bar soap since at this point I had been using the liquid soap for months and had no bad side effects.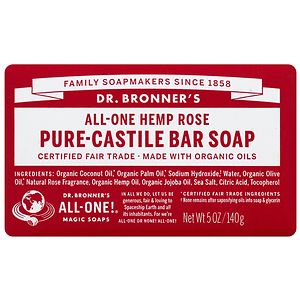 I couldn't believe how soft and smooth this soap was on my skin as well! The scents are just a great as they are in the liquid form and just like with the liquid, your skin feels absolutely cleaner and smoother after just the first use compared to regular soaps!
At this point I couldn't resist trying Dr. Bronner's for other uses around the house. Especially since their slogan is "18 uses in 1" soap for cleaning just about anything. I started substituting the Peppermint soap for hand wash, shampoo (love the super clean feeling it gives your scalp), and even as a stain treatment for grimy dirt that I could never get out with regular detergents! You do have to give it some elbow grease but I have had so much success getting out dirt, make up, oil, and numerous other stains from my vintage clothing, modern day clothes, and even towels that the brightness of your clothes thereafter is worth the work!
To date I have only tried the Lavender, Rose, and Peppermint scents since the other scents don't really sound like they would be anything exciting to try but I have been curious about the Citrus and Almond Oil scents as that is something I use as an after shower moisturizer.
The liquid soap scents they have are:
Peppermint, Rose, Eucalyptus, Almond, Baby, Citrus, Lavender, and Tea Tree
The company also makes a ton of other great products for your hair and body that range from chapsticks to hand sanitizer and even hard surface cleansers too so be sure to check out the website (link above). Most drug stores carry a few of the products but I usually order mine through my beloved Iherb.com to get the wholesale price.
The longer I use this stuff the more uses I find for it which has eliminated buying so many other household products unnecessarily! It's amazing to me how many people I come across that have no clue this brand even exists when it has been around for so many years, so I just had to get this little secret out!
So if you are looking for something more natural without all of the necessary chemicals and will give your skin a deep down clean feel to it, I would say definitely give Dr. Bronner's a try. Some of the scents, like Lavender, may be a little drying but you might have to just test a few scents to see which ones work for you since each does have a slightly different oil composition to them. Luckily, all of the scents come in numerous sizes such as 2oz so you can get a couple just to test them before investing in the larger sizes.
'Til Next Time!
XOXO
-M