"Without the striking power of a self portrait, the image of a Hollywood Star would never endure the sands of time." - M
In this week's HGA Behind the Scenes post, I decided to pay tribute to a man who has just recently become known to me in the last two years. As my own knowledge and skills in photography and film grow, I am constantly looking to the masters of yesteryear to help guide me in their old school tried and true techniques for creating some of the most compelling yet glamorous images the world has seen. I have since become obsessed with this man's work and how beautifully he was able to capture such glamour and style with just a couple of lights and a simple backdrop - sheer genius!
As with his fellow counterparts in this post series, I feel he has also fallen victim to the countless numbers of those who have become forgotten in modern times yet he still remains one with the most impact in his contribution to the Golden Age of Cinema as well as photography in general. Unfortunately it seems like only those who are in this field or obsessed with old movie star portraits would even know of him or his contributions to the movie star image and portrait photography as we know it today, which is why I've decided to spotlight him here.
So if you have ever wondered who the man was behind practically most of those timeless movie star portraits we adore of the past, well here he is:
June 1, 1904 – May 17, 1992
Top Facts About George Hurrell:
Marlene Dietrich
2. Studied at the Art Institute of Chicago and became a painter at the age of 18.
3. Fell into photography by accident because he wanted to learn how to photograph his art.
4. Norma Sheer saw his work of Ramon Navarro which producer Irving Thalberg loved so much he hired Hurrell as head of MGM's portrait gallery in 1930 where Hurrell shot all stills of every star at this time which were used extensively in marketing, thus creating the new genre - glamour photography and standard for the idealized Hollywood portrait.
Rita Hayworth 1942
7. Frequently photographed Robert Montgomery, Jean Harlow, Norma Shearer, Clark Gable, Joan Crawford, and Carole Lombard.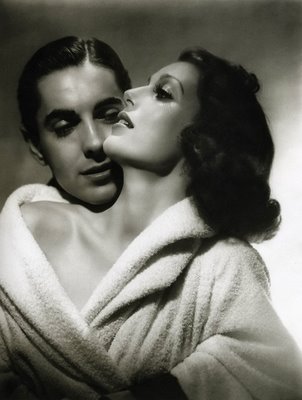 Tyrone Power & Loretta Young


8. Was a regular contributor to Esquire magazine in the late 30's.
9. In 1952, started a television production company and was housed on the Disney lot.
10. He became a diversified artist when his company Hurrell Productions, which was in partnership with Walt Disney, began shooting television commercials in the late 50's for companies such as Sunkist, Hunt's, & Kellogg's.
George


11. Frequently worked as an onset still photographer, producer, director, and even cinematographer in the late 50's-early 60's on such films as "Towering Inferno", "Planet of the Apes" and even for television shows like "Gunsmoke" and "The Danny Thomas Show".
To find out more about this amazing man and see some of his many stunning portraits, you can purchase such books as
"Hurrell's Hollywood Portraits",
"Hurrell Hollywood",
& many others
of which are available via
Amazon
.
XOXO
-M