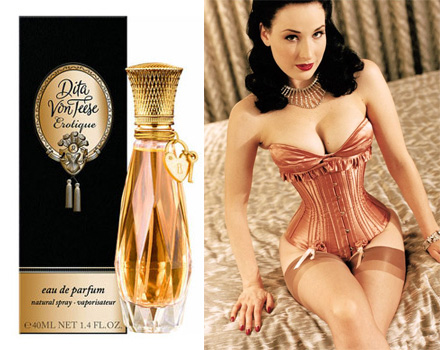 This past Thursday at Apothia in Ron Robinson at Fred Segal was the official launch for Dita's latest scent in her line of fabulous fragrances appropriately called "Erotique". Now I am already familiar with her first two scents, my favorite being "Rouge" but just two weeks ago I was able to sample Erotique and found it intriguing.
I also got a bonus for the night's event, when my friend Caleb who works at Ron Robinson tipped me off on the fact that they just got in Dita's third fragrance "FleurTeese" after what seemed like forever of a wait! So the launch was perfect for trying the latest two scents and being able to see her in person!
I attended the event with a few friends who had never met Dita before much less been exposed to her fragrances so what better way to get acquainted with the Burlesque Teese then joining her in a night of perfume decadence, glamor, and champagne!
Now enough with the talk, on with the pictures!
Erotique display
DVT signature & Rouge display
FleurTeese display
The lovely pinup model Mosh handing out perfume samples
Ashleeta and friends in attendance
Michelle and Nicolle sporting one of her very own Niccococreations hair pieces.
Found another one of our "peoples" representing the vintage scene
LOVED her outfit!
Had to get another snap of Mosh again
Jenny
with the FABULOUS Caleb at Apothia who was such a doll at getting us VIP treatment and helping all the girls figure out what fragrances they liked. Big thank you to him!!
I know, you've waited so patiently for a picture of her...............
DITA!!!!!!!!
Me and Veronica
Long shot of my shirt waist dress
Loved MargaDita's 1940's winter dress!!!
And then.....my girl
Angelique
showed up and man did she REPRESENT!!!!!
Ladies.....take note, this is how it's DONE!
FABULOUS!!
I was drooling over her entire outfit
Dita doing interviews in between the meet and greets
To think, Bettie Page once pranced around in these bad boys.....
Of course you know I ended up being the official photographer for the night, was such fun!
In between these pictures I chatted briefly with Dita, gave her a quick hug, and told her she outdid herself with the fragrances. The girl has really captured what scent aspects capitalize on vintage sophistication, not to mention her hair was absolutely amazing, as always of course.
Better shot of the fetish boots and corset behind Dita, that desk was just ridic!!!
LOOK AT HOW FAB DITA'S HAIR WAS......DROOOOOOL!!!!
One word.....FABULOUS!
Below are some snaps I took with my camera phone:
Me and the Girls
Even though I just bought a bottle of "Rouge" two weeks ago and had sampled "Erotique", I decided to sample it again after seeing how glamorous the fragrance does over time with a test strip I kept for a few days. I just had to break down and get a small bottle of this "seriousness". A girl can NEVER have too much perfume, especially when it is seriously dangerous and exquisite as all four scents are!
Christmas is coming so grab your bottles ASAP! They tend to sell out quick and if you haven't been introduced to the fragrance line yet, you can find my reviews on Dita Von Teese Signature and Rouge
here
, the Erotique review
here
, and the FleurTeese review
here
.
Available exclusively at:
Fred Segal (Apothia by Ron Robinson Store):
8100 Melrose Ave




Los Angeles

,

CA

90046



(323) 655-9500
'Til Next Time Lovies!
XOXO
-M