Wouldn't you know it but the day before Dita's Erotique parfum launch at Fred Segal's Ron Robinson, my friend Caleb, who works at the store called to tell me they had just got in the third edition in her parfum line just two weeks after he told me he had no idea if or when they would be getting it!


So of course you know, I had to multi task at the event because I needed to snap some pics, shake some hands, and check this scent out as I had been dying to see how this one measured up with the other three!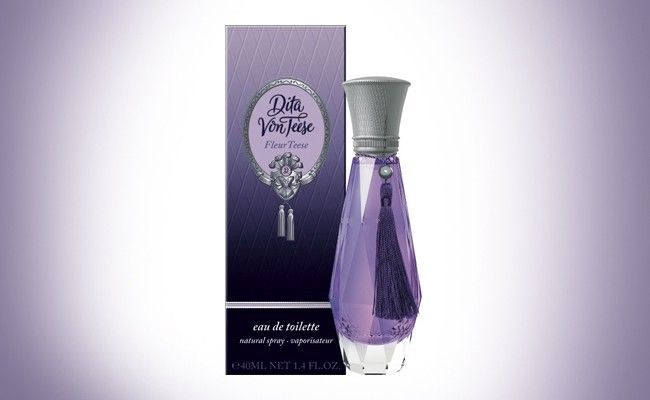 Now if you havn't read my reviews for DVT Signature and Rouge, catch yourself up
here
and if you haven't read my recent review on Erotique, you can find it
here.
As for the long awaited FleurTeese, Dita notes the scent as having Casablanca Lily, Sambac Jasmine, Bergamot, Iris, Lilac, Sandalwood base, with notes of Heliotrope, Cedar, and Musk.
To give you a better idea of what this actually smells like with all that goodness put together, you basically get something that resembles the aspects of Lavender, Musk, and baby powder. To me it wasn't as floral as it's described but this is just my take on the scent and it's also definitely soft enough for day wear and again like nothing else on the market that I've come across which makes this even better! Not to mention, she has done a luxurious job at designing the packaging to ensure these bottles look dangerously glamorous on your dressing table.
If possible, you still want to try the scent out on yourself as many perfumes tend to smell differently on a tester strip then on your body and you want to make sure that you get something that gels with your body chemistry.
Christmas is coming and these make great stocking stuffers for you or that special someone! A girl can never have too much perfume!
Available at:


Fred Segal (Apothia by Ron Robinson)

8100 Melrose Ave,
Los Angeles, CA 90046
*ask for Caleb to help you, he knows these fragrances well!
(323) 651 1935


**world wide shipping is available, call store for details
XOXO
-M