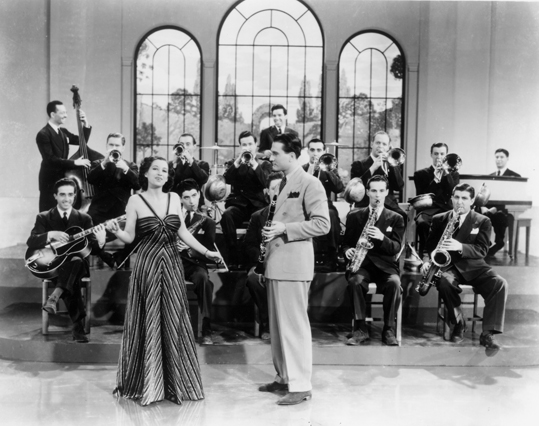 "Music is the backbone in film that links an emotional connection for the audience to feel the story more powerfully than it could without it." - M
In this week's HGA post, I felt it necessary to pay tribute to a woman who's voice has been with us through many Golden Age era films much longer than her face has. Many people who watch films of yesteryear have no idea that some of the stars who had singing parts actually did not sing the songs themselves, mostly due to an inability to sing, so studios would have someone else dub their voice to make it look like the actor was actually singing.
With this particular singer, she became known as Hollywood's Secret Singing Star because she established a nearly 50 year career movie dubbing or "ghost singing" for some of the most illustrious actresses back in the day, particularly at Colombia Pictures. Unfortunately, this notoriety among the studios seldom gave her the credit she deserved.
She never got to record a vocal album of her own, but many of her singles have been reissued on CD as well as some of her broadcast and live performances with bands such Les Brown and most of her films are now available on DVD.
So if you ever thought Rita Hayworth, Kim Novak, or Ester Williams sung their own songs in films well guess again because the sultry voice behind all of these ladies was:
Jo Ann Greer
April 3, 1927-May 24, 2001
Ten Facts About Jo Ann Greer:
1. Began singing in the late 1940's and made many Hollywood connections through her first marriage to pianist Freddie Slack.
2. Greer recorded for Decca Records and joined Ray Anthony's band, with whom she scored her two biggest hits, "Wild Horses" (No. 28 in Billboard) and the perennial party favorite, "The Hokey Pokey" in 1953.
3.
Won the 1956 Downbeat Readers Poll for "Best girl band vocalist".
4. Musical director Morris Stoloff brought in Greer, who was deemed a good vocal match and even had a slight lisp similar to Rita Hayworth's. Greer's vocals on "Trinidad Lady" and "I've Been Kissed Before" helped "Affair In Trinidad" become a big box-office hit, even out-grossing "Gilda" by more than a million dollars.
5. Recorded vocal tracks for such stars as Kim Novak (in "5 Against The House"), Esther Williams (in "Jupiter's Darling") June Allyson (in "The Opposite Sex"), and Susan Kohner (in "Imitation of Life").
6. Sang for Hayworth in two more of her biggest successes, "Miss Sadie Thompson" and "Pal Joey" When the latter two soundtrack albums were released respectively, however, Greer's name was not even listed, in order to preserve the illusion that it was Hayworth who sang.
7. Greer and Hayworth enjoyed a good working relationship on all three of the films they did together as Hayworth would attend Greer's recording sessions and dance barefoot for her in front of the microphone so that Greer could follow her breathing and movements as she sang.
8. Was signed to a $10,000 contract to dub the vocals for Ava Gardner in MGM's "Love Me or Leave Me," but Gardner refused to report for work and coincidentally Doris Day replaced her, doing her own singing.
9. Greer was married to Stan Stout, a trumpet player of the Lawrence Welk orchestra where she guest-starred on the Welk show in the '60s, often singing "Strangers in the Night".
10. Though Greer had a wholesome, somewhat matronly appearance in real-life, she was particularly adept at capturing Hayworth's sultry sexuality with her voice on many songs she sung for her.
To hear many of Jo Ann's songs, you can sample and purchase a complication album available via
Amazon
.
XOXO
-M